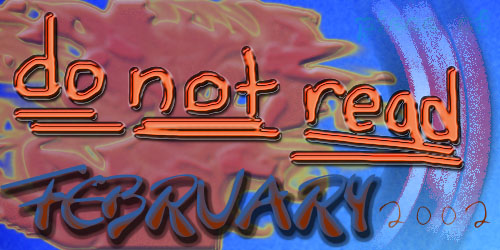 2/26/02 10:02pm
http://www.elasticated.com/press.php?id=19
We've lost another great band. Last fall Elastica called it quits. I'm amazed I didn't hear about it earlier, even though no U.S. music magazines or web sites cover them. I went to the Project Elasticated web site on a whim, looking to update my music release page with some new info on the album that was said to be recorded in New York, and was horrified to read that one of the bands most near and dear to my heart has broken up. There is no new album, but a hastily recorded two-song, limited press 7" and a compilation of BBC Radio 1 performances, neither of which are available here. Though their second and final album wasn't very good (due to a) Donna Matthews' absence b) Years of drug use c) Contrived song writing), their self-titled debut is one of my favorite albums of all time. It's flawless. It was one of the first few albums I owned, so given how long I've had it and my personal changes in musical taste, it's remarkable that I can still listen to it and be blown away. I've been in a bad mood all day because of their breakup; they were really talented. It got me to thinking about how things could've been. If the band had not gotten hooked on heroin and become living rock & roll clichés there might've been another classic album, and it probably would've come out only a year and a half after the debut instead of five years later (although they only spent six weeks recording the music). Their sordid history can be read in the article linked at the top. It's sad how they blew their opportunity to do something better with their music. I really regret not seeing them October 2000, but they played DC the same night I had to go to a Boston University presentation and the same day Kid A came out. As I said, sessions for the new album they were recording didn't work out, and they didn't perform any concerts in 2001. They really broke up Christmas 2000 and waited till fall of last year to announce it. By the time they quit half the members weren't even really truly part of Elastica - they are talented people but to me Elastica will always be the lineup for the classic first album. It's a shame what drugs (and fame) can do to talented people.

On the subject of what could've been, I also got to thinking about other favorite artists of mine. If Bjork hadn't acted in the movie Dancer In The Dark (which she was great in, just to make it clear), we would've gotten at least one full album out of her, probably in 1999. However, she spent three long, hard years on the film and, after turning in a great performance, came out weathered, with very little else to show for her time outside of the movie. The experience soured her, as she freely admitted in films, and in my opinion that had a huge effect on Vespertine. I love her new album, and I place it second or third best of 2001 (I hope to finish my top 20 favorites list soon), but I can only dream about what might've happened if she had not been in that film. Can you imagine an album between Homogenic and Vespertine? In a lot of ways those two cannot be more different. Yet they're both great albums, and I think we as fans were deprived of what Bjork was feeling between those releases. Besides her bad experience filming her movie, other factors influencing her new album include (in my opinion) motherhood and new love (she's dating and living with an experimental film actor/writer/director whose name escapes me). The lyrics and music of the album appeal to me, and I can definitely sense lots of frustration and despair on her previous level, and because I love Bjork as a human being as well as an artist I am so happy she's been able to conquer the situation she was in while writing and recording Homogenic. That said, I miss those days. Homogenic showed a lot of maturity, but a young Bjork still made that album (I think she was 32?). As much as I love Bjork's personality and philosophy in a way that is tainted in no way by her age, in the last couple of years she has transformed into "old Bjork" and her lyrics and music is is beginning to alienate me. I don't know if I've ever felt too immature to appreciate music but Bjork is on such a mature level that my comparative inexperience in life isn't able to grasp a lot of it. I imagine I will love her current phase more as she and I grow older, but right now I still miss the old "young" days. Like an underground emcee, she was still "hungry" in the '90s and you can hear that in all of her albums. But Vespertine is a Bjork that has found herself, for real this time ("The Anchor Song" gives that feeling too, but later songs betrayed it), and is comfortable for perhaps the first time. I guess it just doesn't pair up with where I'm at at the moment.

Anyway other artists I was thinking about I decided their music doesn't really apply. First, Aphex Twin. He never stopped recording, he just didn't feel like giving the public any music for three years, I guess just to punish us. Maybe he did put out a few EP's or albums on different record labels under aliases that none of us have heard of, and he wanted to see if anyone would find out (we haven't).

What about DJ Shadow? Since his landmark debut he's been doing small projects like producing hip-hop tracks for friends and label mates, making guest appearances and collaborations, writing a small handful of new music for the movie Dark Days (good DVD), and releasing a pair of novelty records with Cut Chemist. Most significantly, in 1998 he finally released his star-studded side project album under the UNKLE moniker. This is still one of my favorite albums. But since then I still think he could've put out another full length album. He might've simply not been inspired; there was a two year gap between the completion of the UNKLE album and the beginning of the recording process for The Private Press. However, he's been involved in enough things since UNKLE that I can't really criticize him for not putting out another solo album earlier.

What about Tool? I think they deserve my criticism for inactivity. True, they toured till 1998 behind their album Aenima. Blaming the band's legal battles with their record label and Maynard's side project A Perfect Circle, the band did not write and record any music between 1996 and 1999 (except for a collaboration with The Melvins). That's a long period of inactivity for a band. I think something was definitely up with that, and I don't mean the record label strife. If they really loved what they were doing they would've found time and inspiration to write while they faced their label in court. However it wasn't until they entered the studio for a few weeks to record Lateralus that those new songs were written. Personally, despite their growth as performers, I found that album stifling. I think I found its writing to be the problem. Musically and even lyrically it wasn't too interesting. The album at its worst moments feels like it was just a studio jam session recorded, given a pretty package, and sold for $16 a pop. I think the fans deserved better than that. It's not like we were expecting a pop album, or that all we appreciate from Tool is their melodies. I, myself, enjoy everything that band has to offer. There were some pretty melodic moments on Lateralus, but overall it suffered from a lack of dynamics which only melody can bring. Essentially they gave into their worst tendency, to extend a song with little modulation or focus. Some of these long songs are really cool - "Reflection" is one of my favorite Tool songs ever. And it's not like all the artists I listen to follow a strict 3-5 minute, verse/chorus/verse formula; if you know me at all you know that I like other things besides that. Nor did I expect Tool to follow the rules of being a rock band. I don't criticize them for being "too experimental" on Lateralus - I criticize them for not showing enough soul. If Maynard had not toured with A Perfect Circle in 2000 and early 2001 I think we would've had a better album. If the band had begun recording in 1998 instead of mid-2000 I think we would've had a better album. Despite its gargantuan 79 minutes, the album was too little (effort/thought) too late.

Now, Nine Inch Nails. Although it was a long wait between albums, Trent spent it well. He toured for two years following the release of The Downward Spiral. In 1996 he managed artists on his label, Nothing, recorded an hour's worth of new music for the Quake video game soundtrack, and produced Marilyn Manson's only good (actually, it's excellent) album, Antichrist Superstar. Into 1997 he recorded some film music for David Lynch's Lost Highway, including the single "The Perfect Drug", released an EP of remixes of the song "I'm Afraid Of Americans" by David Bowie, and remixed other artists. He took a break for a few months and wrote new songs. He then recorded straight until summer of 1999. Simply put, there was no time wasted. Even if he hadn't involved himself in outside production, he wouldn't have been able to record any new NIN - it took him years to recover from his new-found stardom and the grueling two year tour in support of his last album. Drugs and partying also played into his writer's block, but unlike Elastica, when he quit he was able to write and record music as good and better than anything he had done before. Because of this I have no reason to criticize the music Trent's released since the end of his hiatus or his current projects. He sounds "hungry" again; not for commercial success, but for making the amazing music he knows he can make before calling it quits in about three years (my estimate, though I hope I am way off by 20 years). I hope after the summer festival tours Bjork follows suit and begins writing and recording new material. I'm eager to hear where she goes after such a content album as Vespertine. What will she write about?

There are other artists I could bring up. FSOL's hiatus, as explained on their site, though long, would not have aided their musical talents. Like some of the artists mentioned above, they were unable to put themselves in the writing/recording mindset. However, unlike the artists above, they basically sat on their asses for years. They do have a new album ready for release and are merely shopping it around to labels. It is a massive departure in style; basically it sounds like a different band. But before they recorded it they couldn't come up with anything they were happy with. So if they released an album, say in 1998, it would've been either re-hash of the last album (which would sound good at first but be uninteresting after a few months), or a primitive stab at the psychedelic stuff they're doing now. Either way it wouldn't have been very satisfying for them or us. How about Portishead? No one knows what they've been doing since they finished touring in 1998. Mum's been the word. Check my music page for the information I am slowly finding out. Do I think they missed a great opportunity to follow up their very impressive second album? Yes. Though I think it's appropriate to have a gap of a couple years between album to keep their music special to listeners, this gap has been to long and I fear that the band has lost touch with the musical progress. I hope I'm wrong, and if I'm not then I hope they've recovered. They may have a good excuse for not releasing anything in five years but no one right now is clued in on what that could be. It seems like an album in 1999 would've been great for them but only the band knows where their heads were that year. What about Meat Beat Manifesto? I think Jack's taken a real dislike for notoriety and has decided to go the very, very obscure route and release music through side projects and limited press singles. Why does he not want to release another full length album? It could be writer's block, or it could be contempt for the masses. I'm guessing a mix of both. We love you, too, Jack.

2/25/02 12:13pm
[Johnny Cash] will be covering the classic Nine Inch Nails song, Hurt on his next CD. Cash recently released a CD full of cover songs, including a cover of U2's One and Tom Petty's I Won't Back Down. Here is what Cash had to said about Nine Inch Nails, and Hurt in particular:
"When I heard that song, I thought, 'That sounds like something I could have written in the 60's. There's more heart, soul and pain in that song than any I've heard in a long time. I love it."
That is the coolest thing I've heard in weeks. Thanks NIN Hotline.

2/23/02 1:32am
http://comp.uark.edu/~tsweden/5per.html
The 5% Nation manifested in hip-hop. Very interesting read.

2/21/02 9:38pm
http://www.thesquarerootof-1.com/
Amazing interactive animations from the person designing the new Boards Of Canada site. Speaking of BoC, they released perhaps their best music to date this week, Geogaddi. Highly recommended.

2/20/02 11:43pm
http://www.aahlookout.com/falsestarts.php
"Bugger!" This is pretty damn funny for anyone who's ever heard a live Radiohead mp3 or been to one of their concerts. I love when Colin.... drops the bass.

http://www.greenplastic.com/news/archives/00000125.html
Here're even more!

2/10/02 12:19am
http://home01.wxs.nl/~bigwilly/picz/britneys_breasts.swf
This is not the mystery of chessboxing.

2/7/02 12:43am
http://www.tvbarn.com/2002/ninnis.html
Unfortunately I think Micro$oft just cancelled Black History Month with their interview with Niger Innis.

2/5/02 1:59am
http://home.kimo.com.tw/netspooky/kikia/
Thanks Ade.