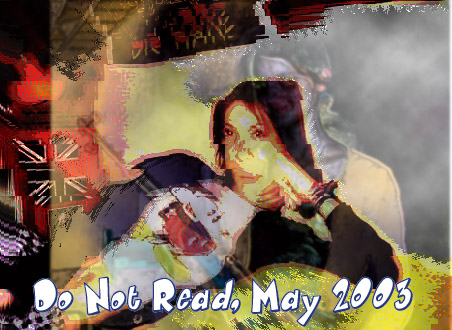 May 9, 2003
Funny: "monster truck" drawings from Mogwai. CLICK
Interesting (to me, anyway): ?uestlove gives production suggestions to Jay-Z for his last album by email and two-way.

qoolquest May-06-03, 02:46 PM (EST)
"OKAYPLAYERS CAN CHANGE THE WORLD!"

damn...so i revised my list somewhat. y'all reminded me of some folks i forogt about. this is what i sent to jay:

the black album
by jay z
(@@@@1/2 stars everywhere--cause lets face it @@@@@s get ridiculed to death)

1. INTRO-bring back PAIN IN DA ASS (that mofo shoulda been screming on "blueprint2" btw.) track produced by PRIMO you spit 200 bars no hook no nothing. straight bk shit.
2. PRIMO one two punch. he will give you A game. shoulda gave u the NYGs beat he made earlier this year.
3. JUST BLAZE track. FIRST SINGLE.
4. BEATNUTS track. they will give you A game everytime. every nuts record got 3 classic looped joints that scream NYC on it. and they need shine, and u need to shock us.
5. rope a dope punch. get back with SKI. assuming he got A game in him. make him submit 20 tracks--pick best one. this is it
6. THE KAYNE WEST second single comes here. make it some GET BY shit....by far his banger of 2003. some shit a backpacker/street nigga/stripper jawn can get down to.
7. NEPTUNES never mad at them single 3. i wish you had "beautiful" for B2
8.JAY DEE (the ummah/soulquarians) is the questlove blessed GOAT for beatmaking. he producer's producer (dream can vouch, he is from the D)--his worst beat is A game. so he will bring his AAA.
9. the shocker of all shockers DJ QUIK. need i say more? the nigga is so slept on. but i can't recall a quik joint i ever fronted on. i want this record guest free (is it still black album? no guest, cover? credits?)--but you and FREEWAY got something going on. so i designate him as lone guest---however! if you must shock the world? this would be the song the world been waiting for: the olive branch song with you know who (mr. kelis rodgers).
10. INSURANCE SONGS (in case dame/hip hop/or whoever has your ear bitches)
DRE (and his minions---insist scott storch be present) beat must be single material. here you can get your 50 on.
11. nother NEPTUNES CLUB BANGER. cant go wrong again.
12. you save the sentimental stuff for last--eff that----leave like you came in spitting over MEGAHERTZ banger. some gutter street shit.


12 songs. little to no guests. short classic. all hip hop classics are short: criminal minded, great adventures, paid in full, illmatic, long live the kane)---this is my wishlist.


JAY RESPONDS

Were on the same page(almost) here's my list:
Primo.(intro and first song)
Just Blaze
Kanye West
Neptunes
Dre
Timbaland
Rick Rubin(just think Run)
Ski
Quik(just added.haaa-thanx)
Marley Marl.
last song????????..I'll have Beatnuts,Jay Dee(who I love), fight this one out!


so i guess we can say that we are somewhat responsible for the inclusion of QUIK, BEATNUTS, and DILLA (sorry haters--i stand by my GOAT statement)

and the marley marl/ rick rubin surprise should be dope.


SO WHO WE GONNA HOOKUP NOW?
:)