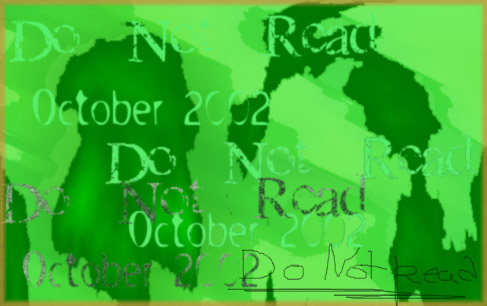 [October 30, 2002][12:20 AM]
15 Reasons To Hate The President
Oversimplified and a bit out of date, but not bad...

[October 28, 2002][3:49 PM]
http://www.blackpeopleloveus.com/
Hilarious and so true.
http://www.miniclip.com/rockstarter/rockstarter.htm
The latest rock band....... it's you!!!!!

[October 22, 2002][9:23 PM]
1. The Promise Ring have broken up! I'm so excited. I hate that band and all their fans! I'm just so sick of GOOD bands breaking up, it's nice to see a bad band making the right decision.
2. I saw Bowling For Columbine yesterday. One of the best films I've ever seen for sure. It's an excellent documentary on the gun-crazy, violent culture of America, and I urge everyone to see the movie even if they don't think the subject is interesting. I can't wait till the DVD comes out. I see myself watching it over and over, not only to absorb the staggering facts but just because Michael Moore makes such engaging and entertaining documentaries!
3. On the subject of conditioning, don't you think that the only reason people drink Coca-Cola is because it's socially conditioned? Think about it: it doesn't taste particularly good. You're drinking it for the caffeine and because "it's there." You can't deny its universality; however, what I'm saying is that it's so popular because the company made it so, not because it tastes great.
4. Dead Prez' album Let's Get Free is one of the best CD's I've ever owned. I cannot BELIEVE I waited two years before buying it. Terrible decision on my part. I highly recommend this album to anyone who is either already interested in politics and social issues or anyone who wants to learn about the plight of the working class African-American.
5. Not to undermine my point, but what's up with skinny black dudes and fat white chicks?! I see normal looking African-American guys dating grossly obese white girls and I just don't understand why. I'm not opposed to interracial dating, I'm just observing a trend that seems to contradict common sense. Also, when referring to race, how come writers capitalize the "b" in Black but leave the "w" in white in lowercase?

[October 15, 2002][2:14 PM]
Through peer editing for my Writing About Music course in the last few weeks I've come to realize that I truly believe in the infallibility of the writer. This holds true especially for essays with atrocious organization and grammar. No matter how poor the writing is in raditional terms, I'll look at it as excellent in that it portrays the writer perfectly. This is not far from finding people suffering from schizophrenia and metal retardation "fascinating." I believe every writer should have creative liberty, free from the confines of so-called "proper" grammar and style. Some essays I've read are more extreme than others, but each one has the right to exist and be accepted in its present form if the writer is satisfied with it. Obviously this idea of mine hasn't stopped me from editing other people's papers or my own, it's just given me a new perspective on the art of writing.

[October 13, 2002][12:55 AM]
Demented opening credits to children's shows! plus classic British TV commercials. All available for streaming.
Unused G.I. Joe Public Service Announcements! Go to part 2 as well.

[October 8, 2002][12:43 AM]
I sent an email to Saul Williams over a month ago and he didn't respond. I can't be mad, however; I was just given this link to three new songs by him. The web site hosts the audio (Shockwave but you can probably turn them into mp3's) as well as scrollable lyrics. :)

[October 7, 2002][5:32 PM]
Is your computer protected from porn?

[October 6, 2002][3:09 AM]
Here's a list of music videos I watched October 4th through 6th on a site I should have discovered months if not years ago - launch.yahoo.com. Really incredible collection, and especially useful for people with a fast connection (set the videos to 300k). There're a lot of other artists with videos I want to see; in that case I just bookmarked them for later. The videos on the list I had either never seen before or hadn't seen in years. Here's what stands out at 3 A.M., after hours of numbing entertainment:
Joy Division Tribute: A Means To An End - interesting 10 minute documentary on the tribute album. Actually filed under artist Girls Against Boys although the documentary interviews and features the songs of other artists on the compilation.

Funki Porcini: Work In Progress Sampler - really clever pastiche of TV infomercials with, of course, tremendously modified contexts.

Curve: (all videos) - I really love Curve. It was cool to see all these '91 videos. Listening to their songs also made me realize how much Shirley Manson has ripped off Toni Halliday's singing.

John Cale: Heartbreak Hotel - My first experience with this man who I had heard about for years came in the form of a drastically different Elvis Presley cover, live on solo piano. Very, very cool.

Jill Sobule: Bitter - Really fun mid-90s video. I long for those easier days in music.

Spearhead: Hole in the Bucket - Another first experience with an artist whose reputation I already knew. Great lyrics with a matching story-telling video. Worth watching for sure.

EBN: Behavior Modification/We Will Rock You - hilarious! More stock footage put in different contexts.

Slowdive: The Ballad Of Sister Sue - Yet another artist with a good rep that I only heard now. Phenomenal song performed with apt emotional power.

Bis: Tell It to the Kids - funny. I knew the song already. All the Bis videos were cute.

Die Krupps: To The Hilt - terrible band but the video is so funny! They got an old man to shout along to the chorus in a grimy concert venue bathroom.

Dick Dale: Nitro - cool to see an old guy rock out on guitar.

Juliana Hatfield: For The Birds - Did I mention I really miss this type of music? Such a cute song, video, and artist. It's sad that music doesn't really have people like her anymore.

Concrete Blonde: Ghost Of A Texas Ladies' Man - Very funny!

The Suicide Machines: (both videos) - Good nostalgia, solid performances. Songs are still catchy years later.

Ryuichi Sakamoto: You Do Me (Graphic Version) - terrible! Oh Ryuichi!

Henry Rollins: Dio - Excerpts - see this! It's Hank's spoken word bit about Ronnie James Dio. So funny! I wish the other Rollins videos were spoken word but alas they were his rock stuff.

Mogwai: Summer - Not a bad video. Stuart has hair!

Cat Power: Cross Bones Style - Cat Power is such a cutie. Great song and good performance.

The Presidents Of The United States of America: (all documentary clips) - It was interesting to see these interviews. I found out about their dissolution, time away from the band, regrouping, and the new album they did (before breaking up again months later). I didn't realize they were such talented musicians, nor did I know how old they look now.

Pizzicato Five: Playboy Playgirl - funny grown-up party video.

Einsturzende Neubauten: Sabrina - amazing video (a monster singing the lyrics) for an amazing song.

Biohazard: Shades Of Grey - funny. It's weird to think of them as having ever been popular, but they were. The rapper is also featured on one of the Die Krupps videos I watched. There are a ton of Biohazard clips on Launch.

Wesley Willis: I Can't Drive - it's not right to laugh at him but he's so funny.

Jane's Addiction: (all videos) - they were such good performers and interesting to look at.

John Frusciante: Going Inside - great song, great video by Vincent Gallo. It's really fun to watch John jumping around playing his guitar. One of my favorites that I watched, although I had seen it before once or twice.

The Moog Cookbook: Black Hole Sun - his goofy Soundgarden cover with an appropriately goofy video starring astronauts playing Moog synths.

Gary Glitter: Rock n' Roll Part 2 - manages to be hilarious and scary at the same time. Gary, you're such a freak!

Killing Joke: Eighties - great 1984 rock 'n' roll with cool clips from that year. Great lyrics too.

Blur: No Distance Left To Run - the bandmembers were filmed while they slept. This is pretty much the whole video. It's much better than that sounds.

PJ Harvey: Exclusive Interview - bloody good lass ain't she?

Butthole Surfers: Who Was In My Room Last Night? - fun.

Blur: Tender - great performance based clip with a gospel choir and Graham rocking out while suppressing the giggles.

Peter Schilling: Major Tom (Coming Home) - very funny, you have to see it just cos you've known the song for years.

The Verve: Drugs Don't Work - touching, like the song.

Gwar: (both videos) - rank very highly among the 200+ videos I watched. Total spectacles.

Massive Attack: Rising Son - They look different.

Radiohead: I Might Be Wrong - not the same as the internet video. This one isn't that much more mainstream but there is some performance.

Eminem: White America - animated.

Moby: (DVD outtakes) - I can't stand his music anymore but these are pretty funny! Still not giving him $20 for the DVD though.

Skinny Puppy: Worlock - perhaps my favorite. Great song - which was new to me - accompanied with appropriate gory images stolen from films to powerful effect. Watch it.

Massive Attack: Inertia Creeps - the "sexy" video.

Tori Amos: Smells Like Teen Spirit - like a lot of the videos I watched, I didn't know this existed! Great performance.

They Might Be Giants: Istanbul (Not Constantinople) - has nothing to do with the Tiny Toons animated video. This one is really amateur and cheesy.

Red Hot Chili Peppers: Soul to Squeeze - Anthony looks like he's having a lot of fun in this video. Great performances from him and Flea.

A Perfect Circle: EPK - a seemingly rare glimpse at the band members. (EPK = Electronic Press Kit. There are a lot of these on Launch.)

The Avalanches: Frontier Psychiatrist - hilarious video! Every sample in the song is matched visually.

Bjork: Unison (Loft Rehearsal) - intimate setting for a video that, again, I didn't know existed. I'm not too hot on the song though.

System Of A Down: Aerials - these guys rock so hard.


[October 2, 2002][4:46 PM]
To kick off October, here are some quotes about society I found particularly insightful/true. Both come from school books, how about that!
From my psychology book, reprinted from Psychology Today magazine:
I noticed that there were people at my [train] station whom I had seen for many years but never spoken to, people I came to think of as familiar strangers. I found a peculiar tension in this situation, when people treat each other as properties of the environment rather than as individuals to deal with. It happens frequently. Yet there remains a poignancy and discomfort, particularly when there are only two of you at the station: you and someone you have seen daily but never met. A barrier has developed that is not readily broken. ...The familiar-stranger phenomenon is not the absence of a relationship but a special kind of frozen relationship. For example, if you wanted to make a trivial request or get the time of day, you are more likely to ask a total stranger, rather than a person you had seen for years but had never spoken to. Each of you is aware that a history of noncommunication exists between you, and you both have accepted this as the normal state.
Stanley Milgram
From Present Tense: Rock & Roll And Culture:
...[T]he core audience for rap is still black and the core audience for metal still consists largely of working-class whites. These constituencies are typically not given much credit for being able to tell the difference between the dramatic situation in a song and the realities of their own lives. For that matter, the performers who speak to those constituencies are not thought capable of that distinction, either. If Eric Clapton--who is white and, better yet, English--covers a Bob Marley song and sings about shooting the sheriff, it's understood that he's an "artist" and doesn't really mean it. He can enjoy a Top 10 hit unhindered by questions about his motives or the effect on his listeners of the song he is singing. If the members of N.W.A., who are black, rap about a violent confrontation with the police, as they did on their blistering 1988 album Straight Outta Compton, they are presumed to be too primitive to understand the distinction between words and actions, between life and art. Their reward is organized boycotts and FBI harassment.
Anthony DeCurtis