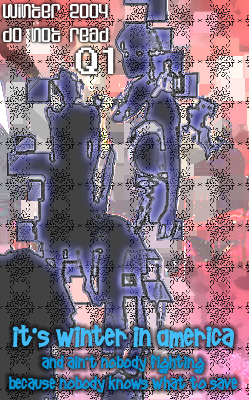 To preface this, you might've noticed there was no DNR for January or February and I'm calling this month "winter." That's because I decided to make DNR pages quarterly for 2004. If you read this site even every few weeks you've noticed that I haven't made much time for it lately. I don't see that trend changing; in fact, I'd have made a single HTML for all of 2004 if not for the fact that I love making little graphics. Sometimes it's these graphics that hold up the whole thing. Below in the first update you'll find links that were ready to go in January and February but weren't uploaded until I found time to make a graphic, layout, and updated index page. Enjoy.
MARCH 21
I feel a real kinship with the program Trigger Happy TV. It's beautifully absurd and nothing I've seen from it has crossed the line* like Jackass did just about every single time. I rarely watch it but when I do, I think it's wonderful. It reminds me of the mischief that I do sometimes that I find fun but not offensive or mean. I really like the use of music also, with the exception being the "original" theme which is a complete rip-off of Elastica's "Connection" (itself a rip-off of Wire) with an added riff from Blur's "Song 2." Otherwise they use nice original piano themes plus great British indie rock and electronic music, stuff you wouldn't expect to hear on a Comedy Central repeat in the middle of the day (it's a British Channel 4 program).
*They're showing the "interview" with Alice Cooper right now. This is the second time I've seen it. This crossed the line; Alice is nice and he made some great music in his time. He seemed so happy and down to earth and he claimed he even watches the show.
Came across this, apparently it's an original tracklisting for Speakerboxxx. Italics for the tracks that didn't make it. "Rats & Roaches" is rumored to be an old ATLiens track.
"Bowtie" (featuring Jazze Pha and Sleepy Brown)
"Oh No" (featuring Bubba Sparxxx and BackBone)
"Church" (featuring Sleepy Brown)
"The Way You Move" (featuring Sleepy Brown)
"Do Dirty" (featuring Killer Mike)
"Reset" (featuring Khujo and Cee-Lo)
"Ghetto Music"
"Last Call" (featuring Lil Jon & the East Side Boyz and Slimm Calhoun)
"The Rooster"
"Unhappy"
"Knowing" (featuring Andre)
"Flip Flop" (featuring Jay-Z and Killer Mike)
"Rats & Roaches" (featuring Andre)
"808" (featuring Bun B)
So I finally received Squarepusher's new album, Ultravisitor. I held off on listening to the (trying to remember to capitalize this word) promo leaked in late January because I wanted to hear it in full CD quality and have the artwork, etc. I'm glad I did because it's off the hook! It truly is new territory for Tom and I am glad. It's not an "amazing" album but it definitely shows progress and innovation. And while it's creative and original, more and more I am hearing his roots. You can hear Hangable Auto Bulb mid-90s AFX in the title track, and as for the rest, you might as well call it Jackin' Dangers & Pastorius because half of it pays serious homage to Jack Dangers/Meat Beat Manifesto while the acoustic instrumentals are very reminiscent Jaco Pastorius/Weather Report. If you removed all the track titles and renamed Actual Sounds + Voices to "unreleased new Squarepusher album (advance promo)" and sent it to Squarepusher fans on Soulseek they'd think it was his next step and praise him for his improved and drastically different drum programming. Jack Dangers released that album back in 1998, just to give you an idea how ahead of the curve he was and always has been. I hear Jack's influence not so much in the breaks (Jack still 0wnZ him; Tom needs to just say no to the damn Amen break) but the newfound love of old analogue machines and the jagged distortion and atmospherics you can create with them. All in all, there are a lot of reeeeeally soft moments on Ultravisitor where you have to listen close just to hear the instruments and there are a lot of NOISY moments. Basically it's like Music Is Rotted One Note crossed with Go Plastic and the best bits of Do You Know Squarepusher? with many brand new ideas and sounds. The limited edition packaging is really nice.
I guess we're in Spring now and I should make the Q2 layout and graphic, just as I was getting used to looking at and actually using this setup. C'est la vie. Watch for the next one very soon. By the way, updates are written incrementally, not in one sitting or necessarily in the day they're updated.

MARCH 14
Bill Maher quote from 3/5/04 on gay marriage:
Plus, let's face it, when people talk about homosexuality being not natural and an abomination, they're not talking about the women. [laughter] [applause] No, they're talking about the men. Nobody seems to find anything so abominable about Britney Spears tonguing Madonna--[laughter]--or Gina Gershon in bed with Jennifer Tilly, or anything else on the third shelf of my library. [laughter] [applause]

No, in America, when a man puts something in another man, it had better be a bullet. [laughter] [applause]

So, isn't it time both sides compromised a little on this issue? The statistics tell us that anywhere from two to ten percent of people in America are gay. Although it seems higher at my bathhouse. [laughter]

So, look, conservatives. I know you're sincere. I know you think you're doing God's work. But in 100 years, people traveling by jet-pack to Mars are not going to be tripping on gay marriage. The whole issue is just going to be a joke. On you.

So my advice is simple. They're here. They're queer. Get bored with it! [laughter] [applause]
My favorite part is "in America, when a man puts something in another man, it had better be a bullet." That was the part that made me laugh out loud, although I might have laughed at the last line, too. Generally Bill Maher isn't terribly funny and I watch Real Time for the excellent guests. The opening monologue is usually the worst part of the show and Bill isn't that informed compared to the panelists he moderates. However, I usually like the ending of the show, with Bill's quick and frequently-hilarious "New Rules" and the closing monologue where he's at his most earnest, often ending on a note that isn't meant to be funny at all but totally sincere.

I'm not sure if the better part of this quote was censored, as it comes from a Larry Elder article using quotes to make negative examples out of black public figures, but I have to agree with Al.
"When you look at the lack of diversity from the editors and those in power, then you see them as automatically dismissive of anything that is not like them, which is white males ... I think we've seen some very blatant racial insensitivity in the coverage of this race so far."
-Al Sharpton on the media's dismissive and paltry coverage of his campaign (I'd say this applies to pretty much anything black public figures do if it's not rapping, singing, dancing, acting, playing sports, killing, raping, kidnapping, or carjacking--i.e., anything that doesn't portray blacks as objects of hatred or amusement, the only roles the typical major white editor or producer is comfortable with).

Stolen from an Okayplayer's sig:
"So the moral of the show is, YOU CAN treat a woman like shit & get her? Wow. Fuck this show..."
-OKP IsaIsaIsa on the finale to Sex and the City and discovering one of the cruel truths of nature
I never watched a full episode but the parts I saw I thought were trash. Maybe you can say "You have to see a few episodes to get it." Maybe, but maybe they tricked you into viewing shallow behavior and demeaning stereotypes without even questioning it.

Why do people have to stop in the middle of an aisle or hallway to chat? Why are people that inconsiderate that they have to block everyone else? Same goes for chatting in doorways. Makes me cranky!

Man, I've had this true overheard conversation typed since early January:
Girl #1 on her plans for the next few years: blah blah blah "win the Pulitzer prize... and my adviser is laughing at me..."

Girl #2: "...You're just very focused!" and then in her wishy-wahiest of wishy-washy tones, "Me, I'm like, I'll graduate, then I'll travel for a few years..."

Then I walked faster away. Some people write clichés, other people live them.

This link comes courtesy of Russell. Click here to visit The Accidental Video Game Porn Archive! Unbelievable. Make sure you look at Chrono Trigger, Felix the Cat, Final Fight, Kirby's Dreamland 3, Pac-Man 2: The New Adventures, and Ring King. Growing up I'd notice a few things here and there, especially in older games. I love how some of the most immature (but funny) web pages are hosted on sites for universities like Berkeley, Princeton, and Harvard.
MARCH 10
Click here to read "One Hundred Albums You Should Remove from Your Collection Immediately" by Wesley A. Kose. Interesting list, much of it I'd probably agree with if I owned it and was familiar enough with it to say it's trash. A lot of this sounds bang on judging by the songs I've heard. Of the few I own, he's usually right, most of them rarely get played (even long-time favorites like Pretty Hate Machine and Daydream Nation) and some of them I think sounded a lot better in reviews than they actually were once I bought them. Of course, the list isn't perfect and he misses the point with some of these albums (though not too many). Thank God for the comments at the bottom, they call this guy on some of his bullshit and they just generally add a much needed balance to this article.
The most misused words I can think of right now are irony and overrated. I probably don't need to tell you that many people can't master the concept of irony and they are quick to tag anything that is unfortunate or weird as "ironic" (you have to give them the benefit of the doubt that they've never read the definition of the word and are just going by the bad examples set by most people). It gets on my nerves though when people abuse the word "overrated," like "that album is so overrated." Overrated by WHO? Just because a lot of people like it and you don't (and what's interesting is usually these people are the stragglers who wait until everyone's raving about something before checking it out, so a lot of them are already going in wanting to hate it just to be different and cooler-than-thou) DOESN'T MAKE IT OVERRATED. That term itself is "overrated!" It's damn near meaningless because there's no objectivity in opinion, there's only the individual's subjective experience.
I don't want to rant about this so let me keep this simple. Pay for albums you enjoy. If you like more than half of the songs from an album that you downloaded without paying for it, you owe it to the people who put hard work into it and to your conscience to buy it. I don't care if this artist sells 5,000 copies or 5,000,000. The artist may be rich (though you'd be shocked how many artists don't make any profit from record sales) but not everyone who was creatively involved in it are: think of engineers, mixers, producers, album artwork designers. Less interesting but still important are the non-creative personnel who deserve to have their work paid for. Think about it this way, how would you feel if you worked for two weeks straight and on pay day your boss tore up your paycheck right in your face and said "Tough cookies, better luck in two weeks"? I think of the strangest analogies from the top of my head but I usually feel like they make sense. Obviously there are a lot more compelling and in-depth arguments for this out there, I'm just letting you know what I think as of right this moment.

MARCH 7
If you're a frat boy in a white suburban college and you own an R. Kelly CD you are an asshole.
Hilarious in its arrogance and presumptuousness ("I don't appreciate your ruse."): Ralph Don't Run. And in his own words, here's why he should run (and is running), why he's not at fault for Gore losing in 2000, and why the hell he has my vote for the '04. Excerpt:
NADER: Number two, you know, let's not talk about 'spoiler.' We're supposed to have the right to run for political office. What about the 250,000 Democrats who voted for Bush in Florida? Democrats aren't worried about them? What about what Jeb Bush and Katherine Harris did to disqualify tens of thousands of ex-felons who weren't ex-felons?!

MAHER: Right.

NADER: They were falsely designated, right? In other words, why pick on the Green Party? Because the two parties don't want any competition.

"Hooker Look in Fashion as Porn Becomes de Rigueur" by Barbara Sumner Burstyn: this is an excellent article on our changing times that will hopefully put things in perspective for you like it did for me.
Warp recently linked this terrific Luke Vibert live set recorded for Japanese Internet radio station Samurai FM. Click here to listen with Real Audio (1 hour).
What's my age again?
Russian animation/game. Yes, this is exactly what DJ'ing is like.
I have newfound respect for Korn! Read this description of their new music video.
Sad Satan! The rumors are true! Rather, the rumors seem a lot more credible to me now after reading and listening to this.
Oh here's to my sweet Satan. The one whose little path would make me sad, whose power is Satan. He'll give you give you 666, there was a little toolshed where he made us suffer, sad Satan.
Not a high school rip-off of Slayer! You just have to listen for yourself.
ICE COLD! Pretty funny parody of "Hey Ya!" by Saddam Hussein. Flash animation.
Oh wow. DRUMMER BATTLE! Click here.
On Okayplayer someone made the topic "?uest owes Stereolab." and said "for Blackalicious' 'Nowhere Fast'" So I sez:
how do you figure? i am a fan of blackalicious and stereolab but that's never occured to me. "new wave" yes but at least that was co-signed by latitia. (p.s. i was disappointed when i found out that she was the only member involved in it; ?uest had said on here that he did a song "with stereolab." why is it so many people, artists and fans alike, will refer to just the lead singer, especially if female, as THE BAND? think no doubt, garbage, and any other alternative group with a girl singer.)
Later ?uest replied:
"well..."
for the record--we did enlist the whole band and they did spot participation but at the end of the day, what she sang was a keeper.
that is the perils of fed ex and emailing tracks.
This is just me keeping bits of info...
The below is not my writing but it's something I found and it will help me remember something I heard long ago that never happened. (source)
Also I found this article taken from the Los Angelos Times "Wall of Sound" concerning the 2Pac Tribute Album, here it is: "Tupac Shakur's mother, Afeni Shakur, and his manager Leila Steinberg are tapping stars from diverse musical backgrounds to play on a tribute album to the slain rapper. According to the Los Angeles Times, the women already have commitments from Ziggy Marley, Smash Mouth, Bone Thugs-N-Harmony, Me'Shell Ndegeocello, Roberta Flack, and former Motown producer Lamont Dozier. Other artists of interest include Sting, Prince, Alanis Morissette, and Seal. Performers will be encouraged to maintain their unique styles on the songs, many of which will sing Shakur's raps. The album is scheduled for release next spring on Amaru Records, an Interscope-distributed label started by the rapper's mother, coinciding with a Rock and Roll Hall of Fame exhibit celebrating two decades of rap. The idea for the album stems from a high school curriculum Steinberg has developed in Berkeley, in which students use Shakur's lyrics as a guide to various cultural issues; issues, Steinberg says, that are relevant to kids from diverse backgrounds. Madonna and the Wallflowers are two other artists who have reportedly been approached about the project. According to Liz Rosenberg, Madonna's spokesperson, the "Ray of Light" singer had other commitments, but suggested Maverick recording artist Ndegeocello, and the Wallflowers manager Andy Slater mentioned the band could be interested, "given the right song."....I also heard it isn't coming out in september. It's coming out next spring to coincide with the Rock'n'Roll Hall of Fame tribute to two decades of HipHop....The online music stores are reporting that a Tupac box set is being released on September 1st." Thats All I Got For Now. Peace

Here is Slate's Super Bowl 2004 ad run down. My favorite part:
A Levitra ad, starring spokesman Mike Ditka, compares football to baseball. Not surprisingly, since Levitra is an NFL sponsor and Viagra is endorsed by a baseball star, football comes out on top. Ditka actually says, "Baseball could use Levitra." Translation: Baseball is limp! You can't get it up, baseball! As I have previously shown, Levitra's euphemism for sex is the image of a football being thrown through a tire. In this ad, Ditka throws the football through the tire, and shouts, "You gotta love that!" This forced me to contemplate the thought of a sweaty Ditka, immediately post-coitus, shouting "You gotta love that!" at his partner. Horrifying.
hahahhaha


Bjork on Lars Von Trier 12/27/03.
» In this web site: http://www.eonline.com/Features/Features/Cannes2000/News/000522.html
»
» It says Björk was mad at lars von trier for something, can someone explain me what happend exactly, cause i'm lost--!
»
» ;)
»
» thx for repplies

i was talking to a friend about it recently and i told him that the thing about making that film that upset me most was how cruel lars is to the woman he is working with . not that i can't take it , because i'm pretty tough and completely capable of defending myself but because my ideals of the ultimate creator were shattered . and my friend said " what did you expect ? all major directors are "sexist", a maker is not necessarily an expert in human rights or female /male equality !

my answer was that you can take quite sexist film directors like woody allen or stanley kubrick and still they are the one that provide the soul to their movies . in lars von trier's case it is not so and he knows it . he needs a female to provide his work soul . and he envies them and hates them for it . so he has to destroy them during the filming . and hide the evidence .
what saves him as an artist though is that he is so painfully honest that even though he will manage to cover up his crime in the "real" world ( he is a genious to set things up that every body thinks it is just his female-actress-at-the-moment imagination , that she is just hysterical or pre-menstrual ) his films become a documentation of this "soul-robbery"."breaking the waves" is the clearest example of that.

bjork.

These are only the states I distinctly remember visiting (though not necessarily overnight). For the record, I've lived in New Jersey, Texas, Maryland, and Pennsylvania (college).
visited 28 states (54%)

create your own visited states map or write about it on the open travel guide




z z z z z z z z z z z z z z z z z z z z z z z z