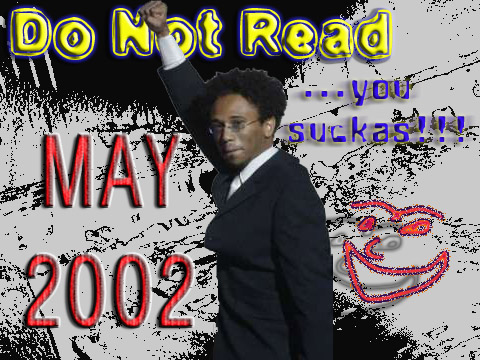 5/30/02 4:24pm
http://www.wired.com/news/mac/0,2125,52397,00.html
I haven't gone crazy enough to get into "lowercase" recordings... yet! Great article.
Quote of the day, from Paula:
"All pop music is about sex. Rock is about wanting to do it, jazz is about doing it, and country and
western is about feeling guilty after you've done it."
- Robert Waldo Brunelle, Jr.
Ever wonder how Autechre were signed to Warp Records (pretend you care)? Here's the story:
"They were signed to Warp because Mark Bell heard their demos over the phone as he was speaking to Rob. He said something like 'Wow that's cool, what are you playing' etc..... Rob said 'Mark from LFO loves this track that you are playing'...etc. Then Ae were signed!" -my source at Warp

5/28/02 11:00pm
http://www.gamespyarcade.com/software/webgames/sicktwisted//fivefinger/fivefinger_index.htm
Five-Finger Filet! Cool!
I'm starting to wonder if that Borders manager was scared off by my homepage? I linked the release dates page on my resume, I suppose she could've wandered off that page and visited the rest of the site. ='( Hire me!

5/25/02 10:26pm
Truth Hurts featuring Rakim "Addictive"
Big Tymers "Still Fly"

Both are great! The Truth Hurts one is produced by DJ Quik, whose music I almost never like. But it has a really cool
sample of an Indian woman singing; it also helps that "the godfather of rap" has a guest spot on the song. There's also
a very nice remix by Dr. Dre, who produced a lot of the Truth Hurts album and is producing most of Rakim's forthcoming Aftermath debut.
As for the Big Tymers song, which I heard for the first and so-far only time a few hours ago, I was shocked how good it
is. Cash Money is the second worst hip-hop "crew" out there after No Limit; third worst depending on how much Bad Boy is
sucking lately. But the beat (by Mannie Fresh, Cash Money's in-house producer) is off the hook. It's obvious he has been honing his craft in the last year Cash Money has been out of the spotlight. Very creative use of drum rolls and bird chirping, and they actually have a marvelous flow on the song.
So while commercial rock gets worse and worse, I've been able to count on commercial hip-hop for the last two or
three years to find diverse inspirations and keep stepping up the creativity and better itself.

5/20/02 1:25am
http://www.okayplayer.com/dcforum/general1/18878.html
In the spirit of fake album track listings (see below), I bring you this link. The "Okay Players" weren't feeling it, but I found it hilarious! Especially "Drought" haha.

5/19/02 2:43pm
Finally ready for everyone: my imaginary track listing to the next Handsome Boy Modeling School album! I was going to hyperlink to their names all the artists' web sites but I ended up doing this offline. Just use Google if you don't know any of the artists mentioned. It's pretty fun, I hope you like it.
Handsome Boy Modeling School: Don't Be A Schmuck
5/18/02 6:36pm
Recently leaked online: Chris Cornell/Rage Against The Machine demos! Thanks Jon.

5/11/02 4:45pm
If I'm not online for a few days it's because I may very likely not have any Internet access at home and I have to find and pay for a new ISP. Now something about colors.
Since white is not a primary color and can't be created by combining primary colors, how exactly is the color white created?
Does it make you sad to know that there is a limit to how many colors are in existence? I try hard to think of a new color but everything I can think of has always been invented. Colors are one of the few things that are set in stone. I think it's miserable that there can be no new colors (and I am not counting different shades of colors because that can go on forever).

5/10/02 10:39pm
Though maybe I shouldn't count my chickens before they hatch (I have one final left), school's just about over and I just want to take the opportunity to jot down a short list of the phrases the kid across the hall used a lot. I really don't at all mind people having their own vernacular. The problem was, a bunch of people copied off him and it just got really gay. Anyway, here're his phrases.
Groady
Nast
Smell ya
ASAP
Ease
Leave one
Intense

I hope I never hear the above again, ugh.

5/4/02 3:44am
I can't say enough about the new Blackalicious album, Blazing Arrow. I highly recommend it to absolutely anyone and everyone.
I read this tonight somewhere and liked it a lot. It put things in a nice perspective for me (so did "Make You Feel That Way" off the aforementioned album).
Great minds discuss ideas.
Average minds discuss events.
Small minds discuss people.

5/2/02 11:57am
http://www.mtv.com/news/articles/1453728/20020501/outkast.jhtml?headlines=true
August 2nd: The Roots, Outkast, Lauryn Hill, and DJ Shadow in Virginia. I know where I'll be.